A Blessing for our BCC Team   August 4th, 2017
May you be strong in courage and confidence.
May you work each day with an assurance of security and safety and may you offer it to those around you.
May you be wise in choices and decisions, acting always with integrity.
May you be caring of all relationships and compassionate to those in need, embodying empathy and caring at all times.
May you meet life's adventures with a clear mind and a bold heart.
May the Divine Power multiply our impact as we work together as a team – one team – committed to our common purpose of enriching communities, one family at a time.
May your integrity be a gift to the world, and may the Spirit of God be with you always.
Amen.
I wrote this prayer to incorporate our BCC core values and purpose.  This blessing was inspired by and adapted from a prayer by Pat Bergen, CSJ.  I offered this blessing at our Staff Appreciation Day last week.
You are in our thoughts and prayers each day –
Your Spiritual Life Team
---
June 14, 2017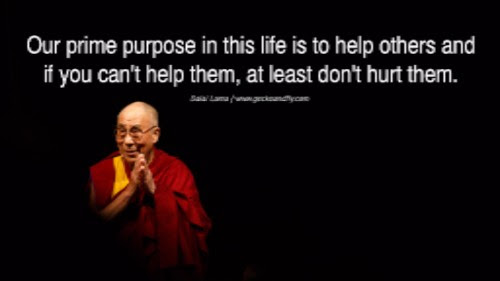 I have been reading My Spiritual Journey by The Dalai Lama and have found lots of inspiration and challenge from this spiritual leader and Buddhist monk.  Meditating on his writing is helping me to increase my capacity for the practice of compassion for others and myself.
Here is a prayer offered by His Holiness the Dalai Lama:
I pray for a more loving human family.  Even when I meet a stranger each time I have the same feeling:  "He is another member of my human family."  Such an attitude deepens my affection and respect for all beings.
May this natural loving-kindness become my small contribution to world peace!
I pray for a world that is more friendly, more loving, and for a better understanding among the human family, on this planet.
That is the appeal I make from the bottom of my heart to all those who hate suffering and cherish lasting happiness.
Will you join me in this prayer and to a commitment to increase our practice of compassion?
P.S.  This prayer was part of our Centering Moment today at the Senior Leadership Team meeting.  Please feel free to share it with those around you – including colleagues and the young people with whom we work.  Blessings!
---
Your Gift   July 6th, 2017
This centering moment opened our BCC Awards Ceremony last week as we honored the accomplishments of our high school graduates.  Hope this thought reminds us what a gift we have being alive and inspires all of us to give our very best selves
---